Our services include:
Cylinder repairs, replacements and installation

Immersion heater replacement

Installations of vented hot water systems

Installations of unvented hot water systems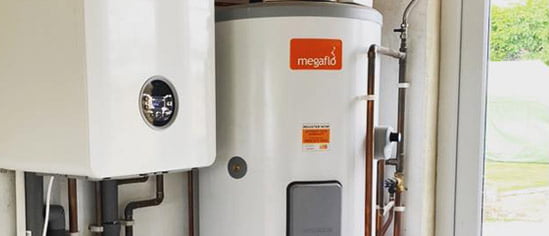 Having no hot water can be a big inconvenience to you and your family. RM Heating Solutions provide professional hot water cylinder installation and repair services for when things go wrong.
Hot Water Cylinder repairs
We can provide repairs to vented or unvented hot water systems and the hot water heater cylinder itself. Repairs are often needed when hot water heaters begin to approach the mid-end phase of their lifespan.
How can I tell if my hot water system is vented or unvented?
A vented cylinder made from copper and gets its water supply from a large cold water tank in the loft. An unvented cylinder uses water directly from the cold mains supply and does not need to water tank in the loft. The unvented systems are very different from vented hot water heaters, and should only be installed, maintained and repaired by experts who are knowledgeable and experienced.
At RM Heating Solutions, we specialise in unvented hot water heaters and related systems, including discharge pipework.
Hot Water Cylinder servicing
Over time an unvented hot water heater will wear out. Issues include lime scale build up within the pipework, which can restrict water flow and cause other problems. For any unvented hot water heater, annual maintenance is always required.
Areas we cover
We cover hot water cylinder installation, repair and servicing around Shepperton, Walton-on-Thames, Staines, Kingston, Richmond, Woking, Esher, Weybridge, Ashford, Addlestone and Chertsey and surrounding areas.