Our services include:
Central heating installations

Underfloor heating installations

Radiator replacement

System power flushing

Central heating system repairs

Installation or repair of thermostatic radiator valves

Heating system control upgrades

Gas safety inspections

Cylinder repairs, replacements and installation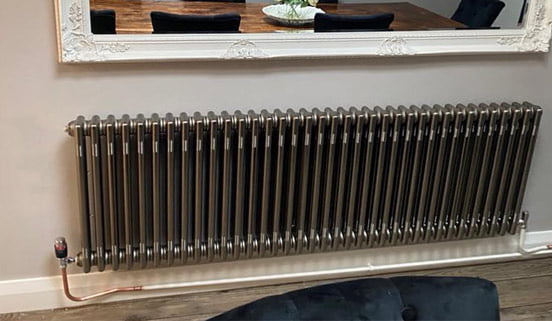 RM Heating Solutions are Gas Safe Certified to deliver quality and safe work. Experts in central heating Installations who will make sure that all the rooms heat up when you want them to, that all the radiators work and there aren't any faults or leaks in any of your pipes.
Do you find that sometimes some rooms stay cold even when you turn the heating up? Bad insulation? Can't keep the heat in? These are all signs there is a problem with your central heating and it needs fixing or re-installing.
Central heating repairs
We fully appreciate how inconvenient it can be to have no heating especially if it's during the colder winter months. You don't always realise just how much you rely on your central heating system until it breaks down.
RM Heating has been fitting central heating systems in domestic and commercial properties for many years. Types of central heating systems include; wet systems, warm air systems and storage heaters. Wet systems are the most common in modern houses. A boiler uses heat exchange to circulate hot water through a system of pipes to radiators throughout the house. We identify the problem whether it is with the boiler, radiators, underfloor heating or control valves and get your central heating up and running as quickly as possible.
Power flushing services
Our power flushing service keeps the central heating system efficient and prolongs the life of your boiler. Wear and tear of your boiler can lead to lukewarm radiators, icy showers, excess noise and a build-up of sludge. All of which are a result of poor circulation. Power flushing removes sludge and residue from the system and keeps your central heating system running efficiently.
Areas we cover
We cover central heating services and installations around Shepperton, Walton-on-Thames, Staines, Kingston, Richmond, Woking, Esher, Weybridge, Ashford, Addlestone and Chertsey and surrounding areas.